Want A Tract For YOUR Local Church?
Pastor, are you wanting to lead your Church in Evangelism but you also care about follow-up? Many Pastors are concerned about this and it is a legitimate concern. Now, when we say "follow-up" we aren't talking about chasing around a lost sinner or a professing Christian and begging them to come to your Weekly Worship Services. When we say "follow-up" we mean giving someone who has questions a place that they can go get them answered. We mean putting them into contact with a group of people that are willing and able to answer their important questions. We mean a place that they can come to for counsel if they would like to Repent and Trust Christ. Let's face it, there are a lot of Churches out there that aren't very Biblical and none of us want them going to those Churches. If you believe that you are part of a Biblical Church, whether you are a Pastor or not, and care about follow-up, this may be something that you are looking for. Here's an example of what we are talking about: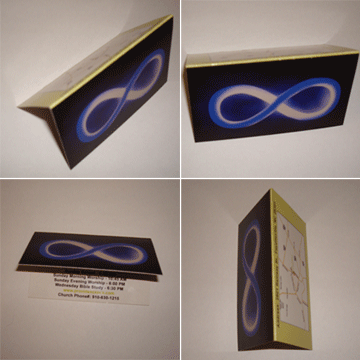 As you can see, this is a foldover business card. It has a total of four sides. It is like taking two business cards and putting them together. The first two sides are comprised of our
Infinity Tract
. We don't have to use the
Infinity Tract
though. In this particular design, we can use any of our
Business Card Size Tracts
. The next two sides have YOUR CHURCH information on it. On the example above, this Church decided to put their Church logo, Church name, the worship service days and times, their website and their phone # on the first side. On the back of that, is the Church's physical address along with a Custom Map, so it is easy to find their Church. All the Churches we have done this for have loved this! We design the custom map for you! This is a great idea for many reasons. Here are a few:
1) Gives a chance for follow-up
2) May help grow your Church through your evangelistic efforts - more opportunities for discipleship!
3) Lost sinners will get their questions answered
4) Easy to find your Church and know the days and times of the services
5) If someone decides to Repent and Trust in Christ, they can come to a Bible Preaching Church!
We can do the same exact tract set-up as seen in the above picture or we could modify it to your specifications. We can use any of the
Business Card Size Tracts
we already have in combination with your Church information or we could design something completely new! This doesn't take long to do either. All we would need is your Church information and we could begin creating Your Custom Church Tract Today! If you are interested in such a tract or if you have any questions, simply
Contact Us
. Blessings to you and your congregation. Here are the Prices (
shipping NOT included
):
Foldover Business Card Tract Size-"Church Tract" (3.5'' x 4'')
-1,000 for $175 ($17.50 per 100)
-2,500 for $200 ($8.00 per 100)
-5,000 for $275 ($5.50 per 100)
-10,000 for $440 ($4.40 per 100)